Upload a photo of your space
For best results we recommend marking 10 inches on your wall with tape to get a sense of scale. Make sure to have the floor visible in the photo.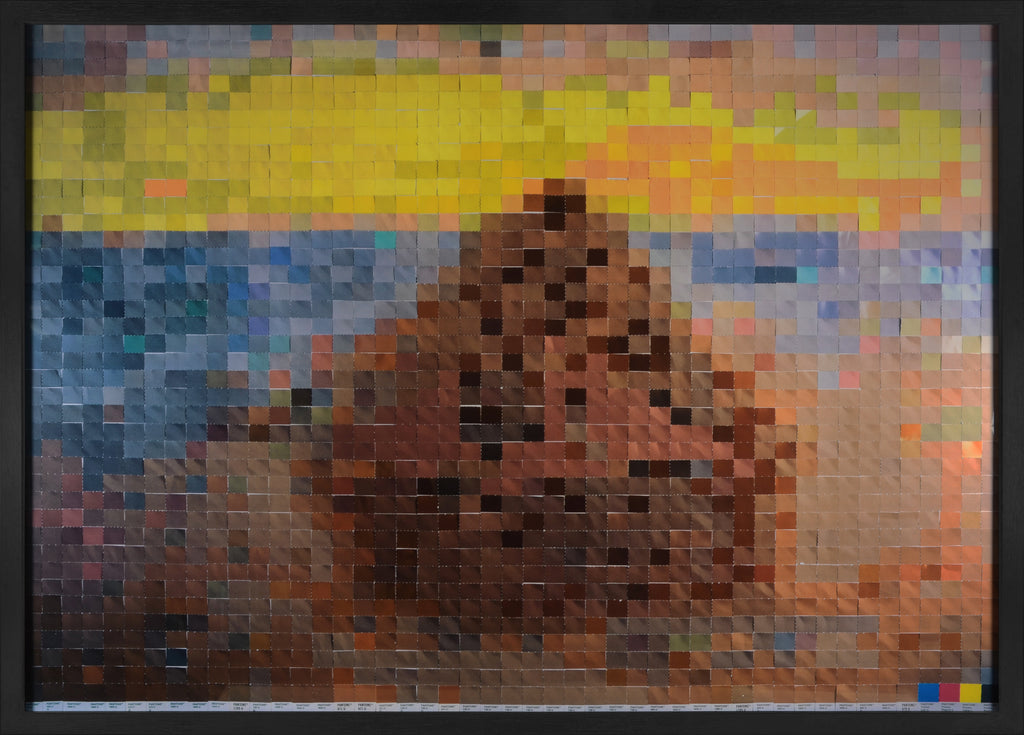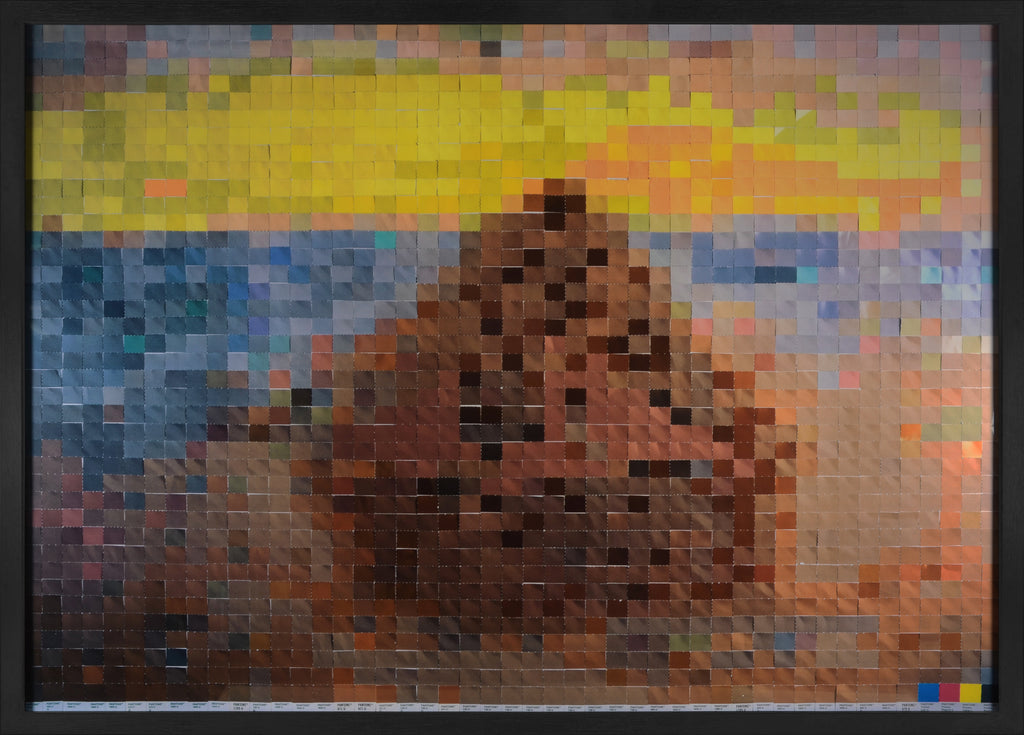 About the Work
About the Artist
About the Work
Vik Muniz is best known for repurposing everyday materials for intricate and heavily layered recreations of canonical artworks. Muniz works in a range of media, from trash to peanut butter and jelly. "Haystack, After Monet #3" is a chromogenic print and is a part of "The Pictures of Colors" series. The image size is 47.25 x 67 – inches.

This piece features an arrangement of paint-store color chips fashioned to create a pointillist rendering of the classic Monet landscape work.

In what is an exercise in skill and masterful technique, Muniz draws his Images in excellent detail, then photographs the original image and prints them in sizes that, despite their far larger format, have lost nothing of their original precision. Although what the viewer Is presented within the end is a photograph, Muniz's art seems as dose to painting as it does to photography. This middle ground, this suspended tension and lack of fixed definition runs through the very foundation of his art.
Muniz is renowned for his ingenious employment of unusual materials, including dust, sugar, chocolate, diamonds, caviar, toys, paper hole-punches, junk, dry pigment and magazine shreds, to reconstruct images that tap into the viewer's subconscious visual repository and beg for further investigation.

About the Artist
Vik Muniz is a contemporary visual artist born in 1961 in São Paulo, Brazil. He is best known for re-purposing everyday materials (from trash to peanut butter and jelly) for intricate and heavily layered recreations of canonical artworks. His work has been met with both commercial success and critical acclaim and has been exhibited worldwide. Muniz began to discover art in the books he borrowed from his high school library and later studied advertising at the Fundação Armando Álvares Penteado de São Paulo. When he was 18, Muniz worked in Brazil, for an advertising company, redesigning an outdoor medium – billboards. He then collected money and left in 1983 for New York. In 1988, his first solo exhibition as a sculptor was held. In 1997, he was featured in a show at the Museum of Modern Art. In 1998, Muniz participated in the 24th International Biennale in São Paulo, and in 2001, he represented Brazil at the 49th Biennale in Venice, Italy. He has had his work exhibited at the Solomon R. Guggenheim Museum in New York, the Museum of Modern Art in New York, the Tate Modern in London, and many more. Vik Muniz lives and works between New York City and Rio de Janeiro. Martin Lawrence Galleries is proud to have select Muniz works in our inventory, which can be seen here.
Please utilize the AR experience in a well-lit room.
Scan the room for surface detection.
Artwork will place in your room.
Using your fingers, align the horizontal white line
with your floor.
Double tap the artwork to scale to 100% size
and pinch to move on the screen.