Upload a photo of your space
For best results we recommend marking 10 inches on your wall with tape to get a sense of scale. Make sure to have the floor visible in the photo.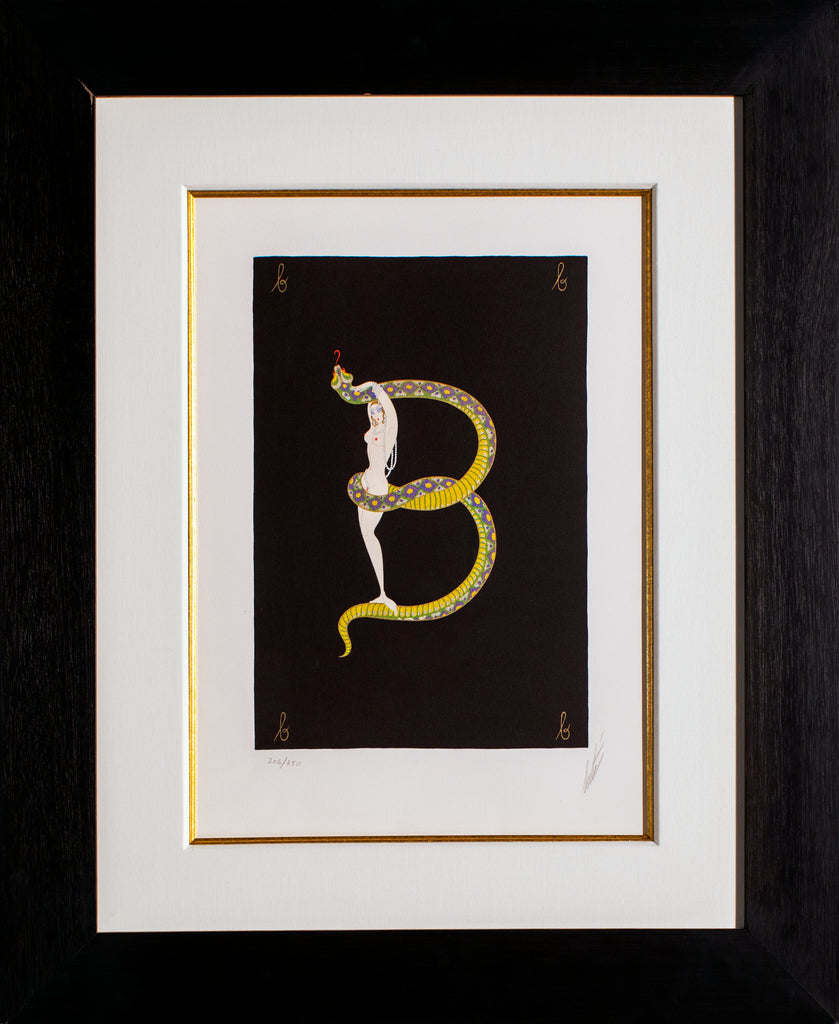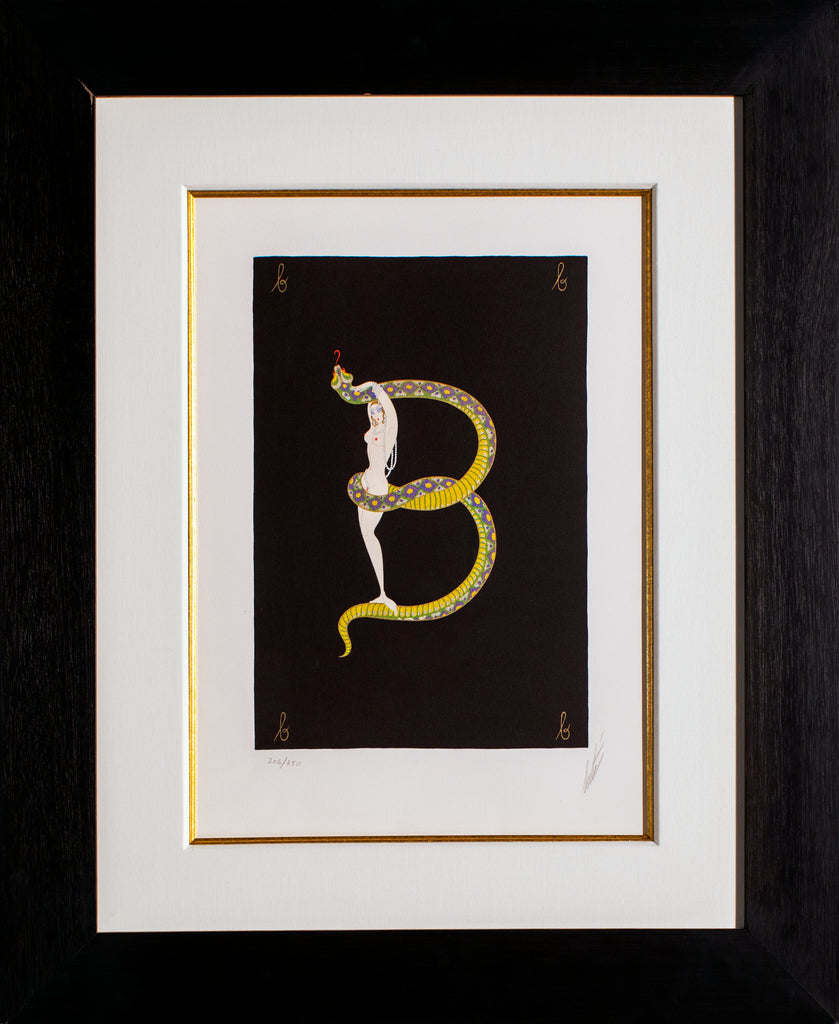 About the Work
About the Artist
About the Work
The Alphabet suite images were originally created as gouaches. The idea was conceived in 1924 and the suite was published in graphics in 1976-1977. Erté explains that in his suite, each of the 26 letters in its capitalized form is composed (baring few exceptions) of a woman or two whose pose and whose dress are invented in terms of the letter. Since childhood, when Erté learned to read and write, he had been fascinated by the alphabet. He said: "For me, it was a form of design…It was my early love for writing, combined with my deep feeling for dance that inspired my Alphabet of Human forms." Erté provides a wonderful description of the history surrounding the development of these exquisite set of images: "I began to compose my Alphabet in 1927, after the great success of my first exposition at the Galerie Charpentier in Paris in 1926. With my habitual optimism, I thought I would finish it for my next exposition at the Galerie Charpentier, which was already arranged for 1928-29".

I had not thought of all my other work, which I had to do at the same time. There was my contract with Harper's Bazaar, which required me to send a cover drawing regularly each month as well as a number of other drawings for fashion and decoration, in addition to occasional articles.

There was also my work for the theatre: in 1926 and 1928 two spectacular reviews, the Goerge White Scandal's and in 1927 a musical comedy, Manhattan Mary, also produced by George White at the Majestic Theatre in New York. In addition: numerous drawings for reviews at the Folies-Bergere in Paris and many theatrical costumes for opera singers such as Lucrezia Bori (of the Metropolitan, New York), Ganna Walska (Chicago Opera Company), Maria Kuznetsov (Paris Opera), etc. In short, at the time of my second exposition at the Galerie Charpentier in 1929, my alphabet was barely begun. I worked at it afterward in every moment of relative calm. So its execution stretched out over a long number of years. Although the execution of the alphabet was thus broken up, the overall plan was already completely established in my head when I started to work on it.

About the Artist
Erté was born Romain de Tirtoff in St. Petersburg, Russia on November 23rd, 1892 and was raised amidst Russia's social elite. At the age of five he created an evening gown for his mother and managed to persuade the adults to craft it, they were astounded by the results. In 1912, Romain left St. Petersburg for Paris at the age of nineteen with the aim of becoming an artist. After working with Paul " Le Magnifique" Poiret on several theatrical productions Romain, still under the pseudonym of Erte, began to work more independently. He hand-crafted original costume and fashion designs for many of the era's most renowned actresses, including Joan Crawford, Lillian Gish, Marion Davies, Anna Pavlova, Norma Shearer, and others. His masterpieces for the stage included extravagant production designs at venues such as New York's Radio City Music Hall, the Casino de Paris, and the Paris Opera. In 1915 he began his long professional relationship with Harper's Bazaar and created 240 covers for the esteemed magazine. For 6 months in 1916, Erté simultaneously worked with Vogue as well. As a result of his highly publicized success, Erté would later be called the father of the 'Art Deco' movement.
Please utilize the AR experience in a well-lit room.
Scan the room for surface detection.
Artwork will place in your room.
Using your fingers, align the horizontal white line
with your floor.
Double tap the artwork to scale to 100% size
and pinch to move on the screen.