Upload a photo of your space
For best results we recommend marking 10 inches on your wall with tape to get a sense of scale. Make sure to have the floor visible in the photo.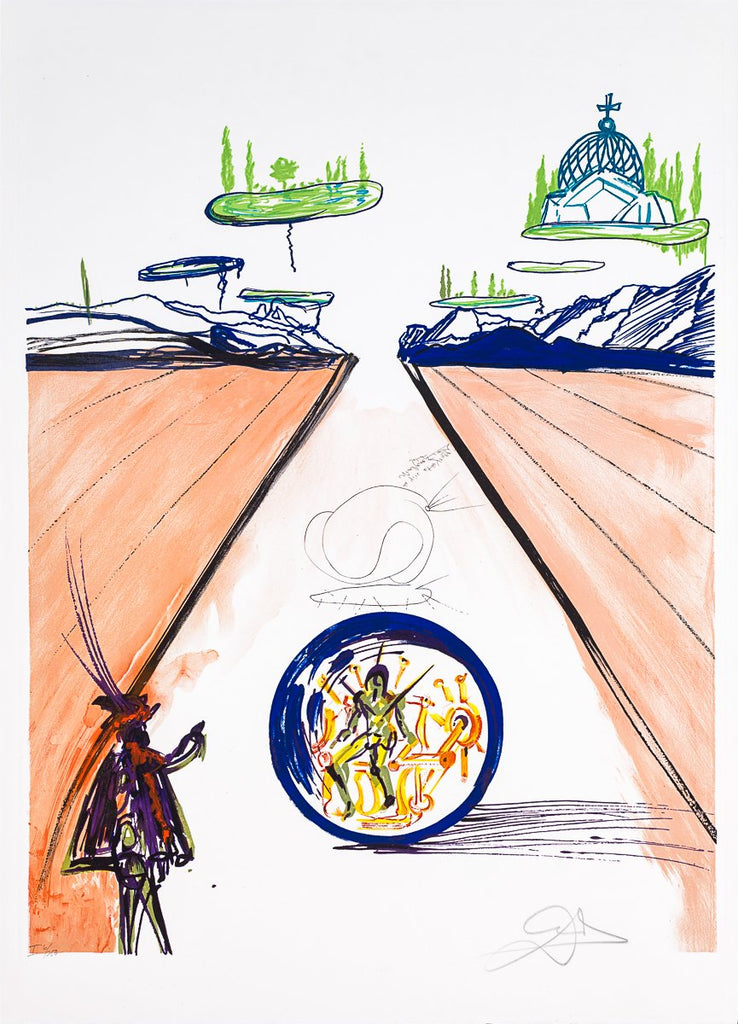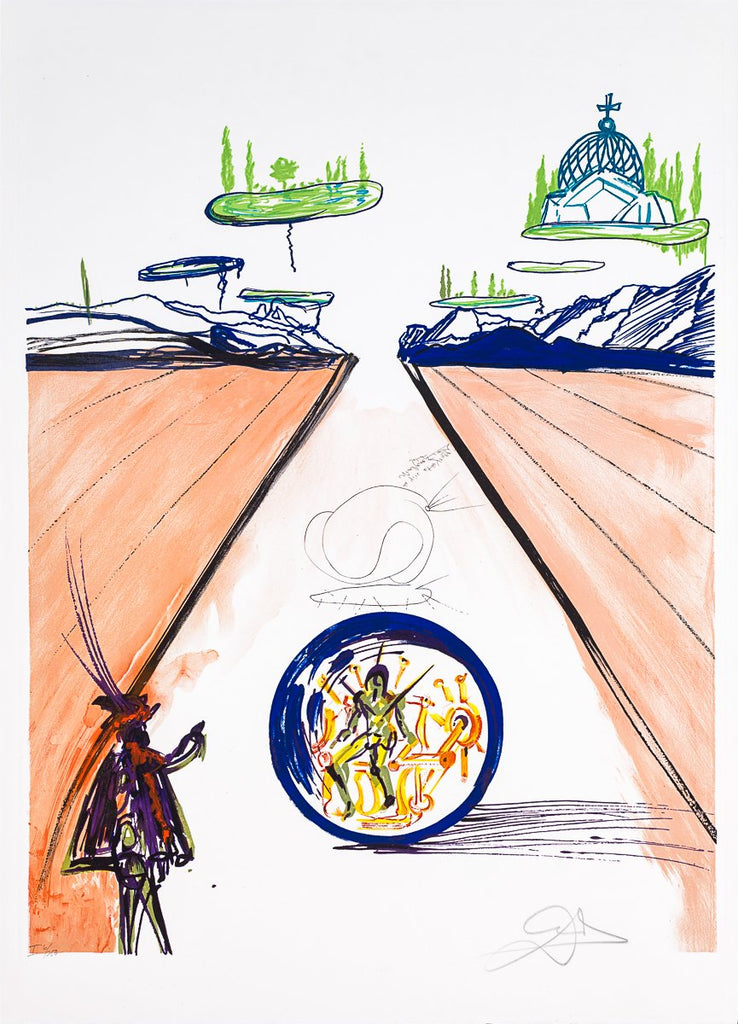 About the Work
About the Artist
About the Work
"Intra-Uterine Paradisiac Locomotion (Imaginations and Objects of the Future)" is a hand-signed lithograph and etching created by Salvador Dalí in 1975. The image size is 28" x 21". The artwork ships framed, signed and with a certificate of authenticity.
The Imaginations and Objects of the Future series consists of ten lithographs, five of which have collage elements. Anti-Umbrella with Automized Liquid is one of the works featuring collage. The Dallas Museum of Art interpreted this work as how "he envisioned a beach umbrella that not only protects one from the sun's rays but also emits an atomized liquid that provides an artificial tan, [it] is not unlike the bottled tanning solutions used today. It is also a precursor to the misting machines that are used to cool an outdoor porch or deck in the heat."
With this work, Dalí addresses both driver safety and the difficulty in finding a parking spot in the city of the future:
This automobile we carry in a small valise. We blow it up. It is inflatable with helium. There is a double wall; inside is helium. There is also a mechanism to make it rotate on an axis. This axis contains the little motor and also the place to sit down. So we inflate our car which is a double spherical wall and being soft there are no traffic accidents. It is as if you were inside a protoplasm, in a living cell. We can also graduate its' [sic] elasticity and deflate it when it is not in use. The precursor to this car is the Dalínian velocipede which was patented as long ago as 1950 and which is sort of a rigid plastic. But plastic breaks; now this is going to be a soft, double-walled ester, with the wall filled with the lightest element, which is helium gas.
About the Artist
Spanish Artist Salvador Dalí was a Surrealist icon best known for his articulate skill and exquisite works of art. Dalí is among the most versatile and prolific artists of the 20th century, partially due to his explorations of subconscious imagery. He practiced sculpting, printmaking, fashion, advertising, filmmaking and more. His flamboyant personality and mischievousness contributed to his rise to becoming an international celebrity, however, his mastery of art is arguably his most distinct attribute.
Please utilize the AR experience in a well-lit room.
Scan the room for surface detection.
Artwork will place in your room.
Using your fingers, align the horizontal white line
with your floor.
Double tap the artwork to scale to 100% size
and pinch to move on the screen.