Upload a photo of your space
For best results we recommend marking 10 inches on your wall with tape to get a sense of scale. Make sure to have the floor visible in the photo.
About the Work
About the Artist
About the Work
""The Voyage Home" (Ubu Roi, M.430)" is an hand-signed lithograph created by Joan Miró in . The image size is 18.25" x 24.75" and framed size is 40" x 46.5". The artwork ships framed, signed and with a certificate of authenticity.
About the Artist
Joan Miró is regarded as one of the most original artists of the 20th century, who often worked with a limited palette, yet the colors he used were bold and expressive. His mature style evolved from the tension between his fanciful, poetic impulse and his vision of the harshness of modern life. Miró worked extensively in lithography and produced many murals, tapestries, and sculptures for public spaces. Despite his fame, he continued to devote himself exclusively to looking and creating. Joan Miró was born in Barcelona, Spain on April 20, 1893. His father was an artisan watchmaker and goldsmith. Based on his parents' wishes, Miró attended a commercial college, then found work as a clerk in an office for a short period of time. Unfulfilled by his profession, Miró asked for his parent's permission to allow him to attend art school in Barcelona in 1912. There, he gained great experience learning under Francisco Galí.
Please utilize the AR experience in a well-lit room.
Scan the room for surface detection.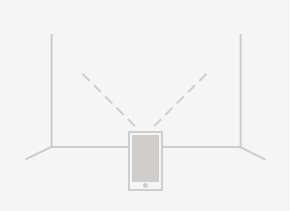 Artwork will place in your room.
Using your fingers, align the horizontal white line
with your floor. Double tap the artwork to scale to 100% size
and pinch to move on the screen.