Upload a photo of your space
For best results we recommend marking 10 inches on your wall with tape to get a sense of scale. Make sure to have the floor visible in the photo.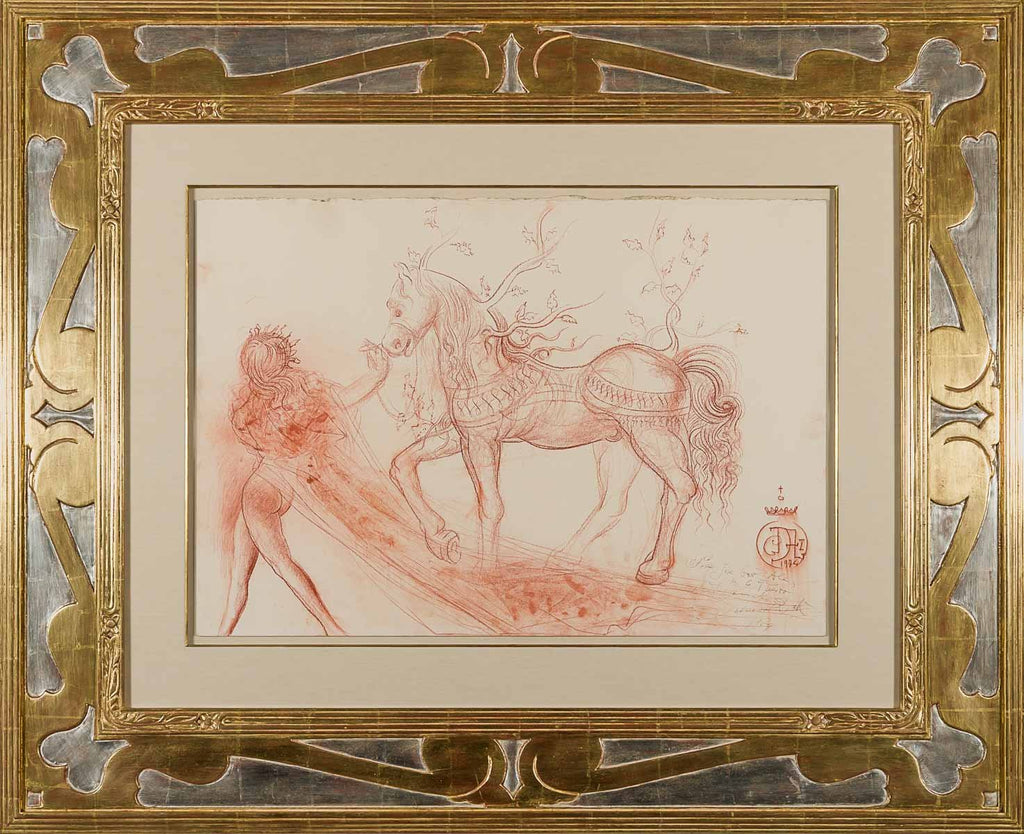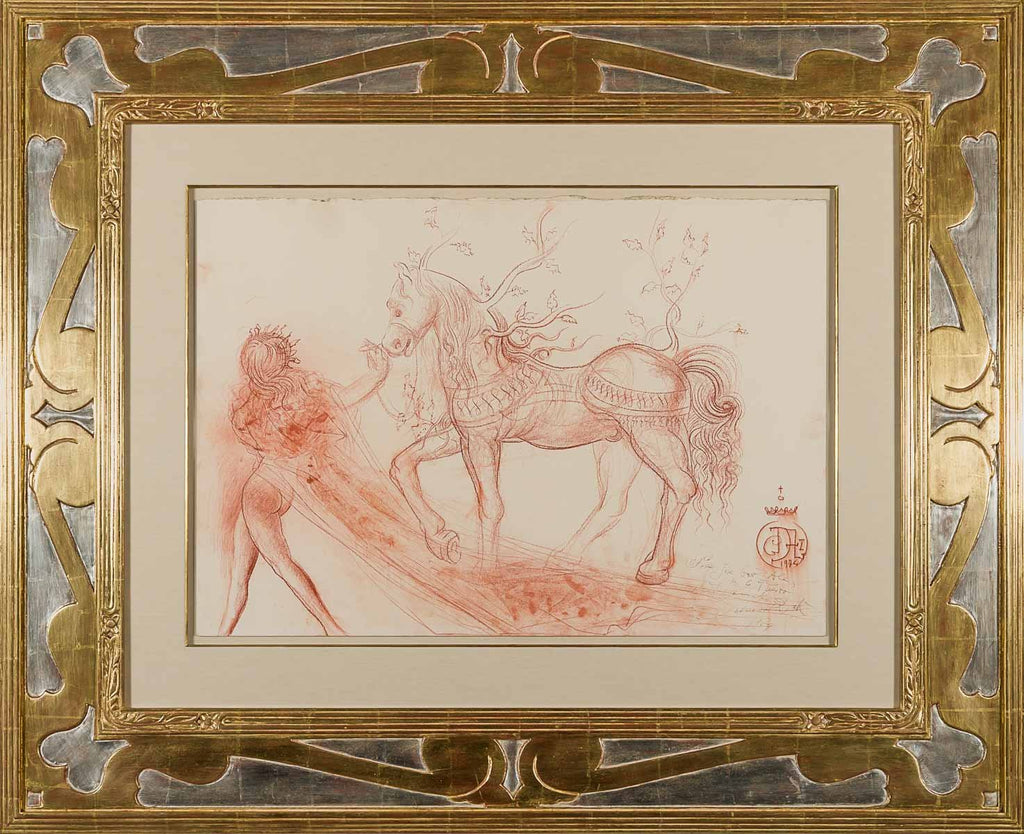 About the Work
About the Artist
About the Work
"Alegoria Relativa a la Higiene y Seguridad" is a sanguine on card. The image size is 20 x 28.5 - inch, and the framed size is 38 x 46.5- inch. Dedicated, signed and dated "Para Jose Gonzalez de la Puerta afectuosamente Salvador Dali 1974"
"Alegoria relativa a la higiene y seguridad" is a powerful depiction of a Dalinian horse trotting harmoniously with the goddess of health, Hygieia. This phantasmagorical scene serves as a unique allegory of health and safety, as both figures are painstakingly illustrated with a unique technical virtuosity that is characteristic of Salvador Dal¡. While the Dalinian figure of the horse often serves as an ominous reminder of death and decay, as in Le Chevalier de la mort, the present work relays a hopeful message: the Dalinian horse is portrayed full of spirit and life, so much so that the horse?s mane sprouts beautiful branches of leaves. With elegant control and mastery, Hygieia walks gracefully alongside the Dalinian horse. This time health is the master of time. She tames the horse, commands it and secures it.
Boasting a provenance befitting its theme, the present work was commissioned directly from the artist by Dr. D. Antonio Vi¤as Fontenals in 1974. It was then gifted to Fontenals? colleague, Dr. D. Jos' Gonzalez de la Puerta, as a means of honoring the latter?s work in establishing a Health And Safety institute in Barcelona.
About the Artist
Spanish Artist Salvador Dalí was a Surrealist icon best known for his articulate skill and exquisite works of art. Dalí is among the most versatile and prolific artists of the 20th century, partially due to his explorations of subconscious imagery. He practiced sculpting, printmaking, fashion, advertising, filmmaking and more. His flamboyant personality and mischievousness contributed to his rise to becoming an international celebrity, however, his mastery of art is arguably his most distinct attribute.
Please utilize the AR experience in a well-lit room.
Scan the room for surface detection.
Artwork will place in your room.
Using your fingers, align the horizontal white line
with your floor.
Double tap the artwork to scale to 100% size
and pinch to move on the screen.